NHL Playoffs Preview: Jets vs Ducks
On Thursday, April 16th, 2015, the Winnipeg Jets and Anaheim Ducks will square off in the first game of their Western Conference Quarterfinal matchup. This series will mark the first time playoff hockey will be back in Winnipeg since 1996. And boy are they ready for it.
Season Series
Winnipeg Jets (0-1-2) vs. Anaheim Ducks (3-0-0) 

Anaheim took care of business during the regular season series between these two teams, defeating Winnipeg in all three games they played, but one came in overtime and another in a shootout. Anaheim scored four goals in each of the games. However, the clubs haven't played since January, and each team made significant trades before the deadline.
Storyline
Injuries were not a big factor for the Ducks this season as was the indecision to determine a number one goaltender. Between Frederik Andersen and John Gibson, both had their high and low points on the year and it is easily the biggest area of concern for the Ducks heading into Spring hockey.
For Winnipeg, their journey to clinch a playoff berth was not as smooth as Anaheim's. They remained in the hunt for the duration of the regular season and got big wins when they needed to. They closed out April with a 4-0-1 record compared to Anaheim's 2-2-0 finish.
Significant Injuries
Winnipeg managed to remain healthy this season until later on. They endured injuries to streaking goal scorer Mathieu Perreault, not to mention Tyler Myers and Dustin Byfuglien. They are nowhere near as dangerous of a team if 'Big Buff' isn't healthy or if he's playing hurt. He, Ladd and Michael Frolik are the lone Jets with Cup rings (all won with the Blackhawks back in 2010).
Keys to the Series
The Ducks ability to move past Winnipeg will hinge on the performances of not only Perry and Getzlaf, but the supporting cast of players around them. The Ducks went out in the offseason and bolstered their goal scoring by nabbing Ryan Kesler, and Matt Beleksey has had a nice under-the-radar season for them offensively as well. It is not a question of if Perry and Getzlaf will produce, because they will, but rather how much support will they get in terms of offensive production?
Winnipeg's biggest advantage going into this series is the recent play of goaltender Ondrej Pavelec. When it seemed Pavelec was not up to the task of performing the duties of a number one netminder, backup Michael Hutchinson stepped in and was fantastic for them. One can feel comfortable going with either one of them for the postseason, but I feel Pavelec is going to be the Jets' starter come game one.
Most of the team's core, from Jacob Trouba to Mark Scheifele to Blake Wheeler to Bryan Little, lacks post-season experience which could come back to haunt them. Don;t forget home ice in this one will be big.
Series Prediction
Anaheim in 5.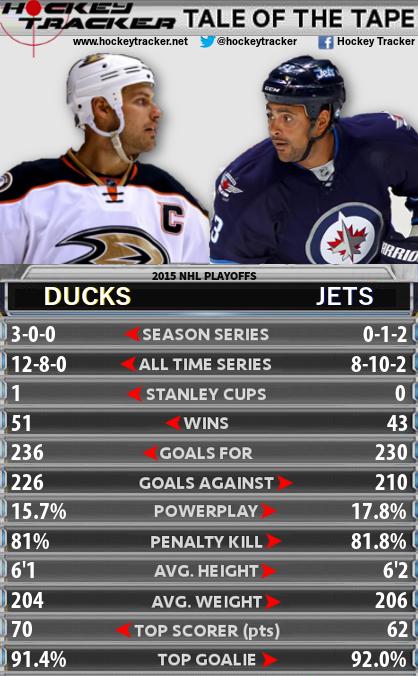 Latest posts by Peter Rossi (see all)